Transformer 3, Transformer 3 Pro sees ASUS claw at Surface Pro
ASUS was last seen focusing on gaming notebooks, but this year around the manufacturer is showing lightweight, powerful and versatile mobile PCs at Computex. The new Transformer 3 and Transformer 3 Pro are very striking, the devices are clearly aiming at Microsoft's Surface Pro market, as well as devices like the Huawei Mate Book.
Both models use Skylake generation Core-i CPUs and 3:2 format 12,6" displays, with a resolution of 2,880 x 1,920 pixels. ASUS not only promises good readability, but also ands the colour representation will be convincing. The sRGB color space will be covered by 121 percent, while the NTSC counterpart is supposed to be covered by at least 85 percent. In addition, the blue level can be reduced to protect the eyes. Reflections are claimed to have been reduced by up to 67 percent, although ASUS didn't say what its comparison was based on. The so-called ASUS Pen stylus is supported, which provides 1,024 levels of pressure.
Despite all the similarities, the two devices are rather different.
ASUS Transformer 3 Pro
From a technical standpoint, the Transformer 3 Pro is the most interesting device. With a metal case measuring 298,8 x 210,1 x 8,3 mm, it is similar to the Surface Pro 4 with an adjustable stand allowing an angle of up to 155°. The case integrates the four main interfaces, namely a single USB 3.0 port, as well as Thunderbolt 3 and HDMI, and an audio jack. Furthermore, ac-WiFi, Bluetooth 4.1 and a card reader are also onboard. Depending on configuration the SSD offers either 128, 256, 512 GB or 1 TB, at least the latter offers high transmission rates thanks to PCIe x4. Up to 16 GB RAM can be installed, but only type LPDDR3.

Other features include two cameras with 8 and 13 megapixels (front/ rear), 2 W stereo speakers and a 39 Wh battery, which can be charged over the Type-C connector. ASUS promises the battery loads up to 60 percent of its capacity a single hour.
It remains to be seen if the Transformer Cover Keyboard will come bundled with the Transformer 3 Pro, or not. The keyboard has a glass touchpad and backlit buttons in a standard layout, with a stroke of 1,4 mm it provides a high level of comfort for typing.
ASUS Transformer 3
The same stroke and lighting is also offered by the Transformer Sleeve Keyboard that comes included with the Transformer 3 and also serves as a stand. ASUS' non-Pro model does not feature an integrated stand, and there are also only two fixed angles.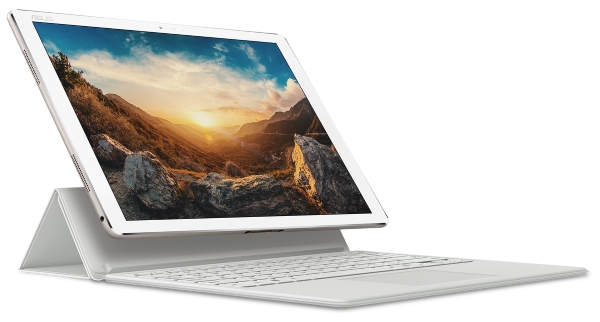 With dimensions of 303,0 x 202.0 x 6,9 mm and a weight of 695 g, it is slightly smaller and lighter. Weight is lower owing to a smaller set of features. A maximum of 8 GB RAM (LPDDR3) can be installed, and it only comes configured with a 256 or 512 GB large SSD, both are SATA 3 with M.2 interface. Furthermore, only Thunderbolt 3 and an audio jack on the side are available as physical interfaces; ac-WiFi and Bluetooth 4.1 are also available here.
Despite having less ports, the Transformer 3 does have four speakers and a fingerprint sensor in the upper edge.
With a capacity of 38,5 Wh the battery is sized a bit smaller, but it will be 60 full after just 50 minutes. Once again, a Type C connector is used to charge it.
ROG XG Station 2, Audio Pod, Universal Dock
At the same time, ASUS also introduced new accessories that can also be used with the two new Transformer variants. The ROG XG Station 2 shown in January is the most interesting. A desktop graphics card can be mounted inside of it, even a NVIDIA GeForce GTX 1080 should be possible. As one can imagine, it his hooked up to the Transformer 3 and Transformer 3 Pro over Thunderbolt 3. System performance is then said to be enough not only for all current games, but also for using VR goggles. Alas, ASUS didn't say hwo on earth one will use an Oculus Rift or HTC Vive without an USB port, or an external dock.
Should the built-in speakers not be enough, one can grasp hold of the Audio Pod. The new oval Bluetooth speaker uses four loudspeakers to produce 5.1 and 360°C sound. It can be controlled using the keys on the front.
Especially for use as a computer is as Universal Dock. This once each has USB 3.1 Type-C, HDMI, VGA, Ethernet, and two USB 3.0 and a card reader. The connection to the Transformer 3 and Transformer 3 Pro is by USB Type-C.
Prices and availability
ASUS didn't reveal an exact launch date for the two new devices. Even prices for the various configurations and accessories are still written in the stars. So far, it is only clear that the Transformer 3 with its keyboard sleeve will cost 799 US dolllars, while the Transformer 3 Pro will start at around 999 US dollars.
Error