Test: Google (ASUS) Nexus 7 - a tablet for all
Page 7: Benchmark Results
Our benchmarks saw the 200 EUR tablet Nexus 7 facing some heavily expensive competitors - an uneven match to say the least. Nonetheless, NVIDIA's Tegra 3 should make for a good basis for proper benchmark results.
SunSpider JavaScript Benchmark
As the name suggests, the JavaScript Benchmark "SunSpider", using WLAN, measures the JavaScript performance of a device. The Nexus 7 doesn't set up new records; still, it's one of the fastest Android tablets that we tested so far. It is about on par with the much more expensive ASUS Infinity (TF700KL), which runs on a Qualcomm Snapdragon S4 (Krait).
Rightware Browsermark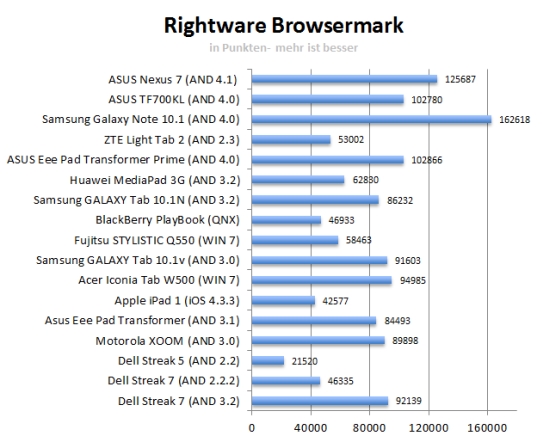 The Browsermark test was also performed over WLAN. In this benchmark, too, Google's tablet shows what it can do, only surpassed by Samsung's Galaxy Note 10.1 (with its Exynos CPU).
Quadrant
In addition to the two browser-based benchmarks, we test Android-based tablets with two popular Android benchmarks. Both Quadrant and AnTuTu are standalone apps that are available in Google's Play Store. They put the hardware of Android devices to the acid test, especially concentrating on graphics performance. The two aforementioned competitors leave the Nexus 7 way behind in the Quadrant benchmark: both the ASUS TF700KL with Qualcomm Krait and the Galaxy Note 10.1 with quad core Exynos are faster.
AnTuTu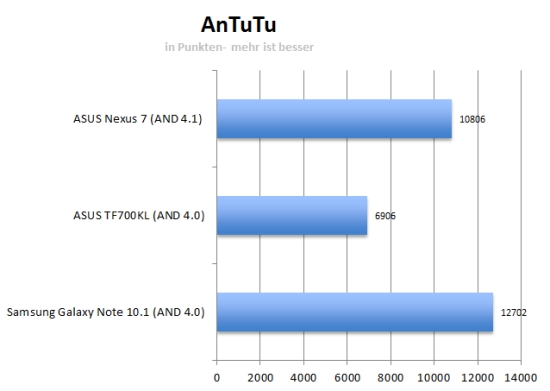 AnTuTu yielded better results for the Nexus 7. At number one, the 10.1, isn't too far ahead, while the TF700KL is being downright outclassed. Note however that the Qualcomm processor in the Infinity tablet falters heavily in this benchmark. AnTuTu punishes the tablet for having only two cores. On the other hand, the Tegra 3 CPU in the Nexus 7, with its four cores, truly shows its strength.
Despite fluctuating results, the benchmarks can only lead to one conclusion: The Nexus 7 is a high-performance tablet that can easily compete with much more expensive competitors. Even more important than a benchmark is the overall pratical impression. The tablet, combining Tegra 3 and Android 4.1 really shows a great game by allowing exceptionally fluid handling. But more on this on the next page, where we will have a closer look at Jelly Bean.
Sources and further links
There are no forum posts for this article