XXL-Test: NVIDIA GeForce GTX Titan in 3-Way-SLI
Page 12: Power Consumption, Temperature and Noise Level
At the last second we learned that we are allowed to present to you the first results of our measurements today.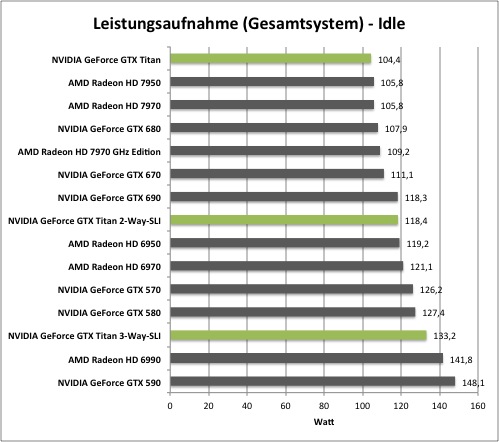 When idling, the NVIDIA GeForce GTX Titan shows an extremely positive power consumption, which amounts to only 104.6 watts for the complete system. This value is a conventional single-GPU level. With a second GeForce GTX Titan inserted into the system, consumption increases by 14 watts to 118.4 watts. NVIDIA specifies an idle consumption of approximately 15 watts, a value which we can confirm. A third added card in turn makes for an increased consumption of exactly 15 watts, for a total power consumption of 133.2 watts, thus still remaining below a Radeon HD 6990 or GeForce GTX 590. Here, the positive development in recent years towards lower power consumption shows very clearly.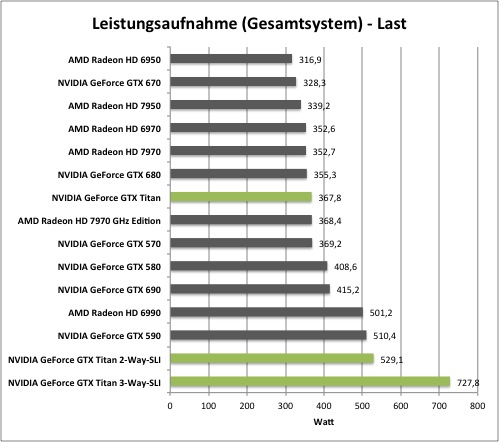 Under load, the consumption of a GeForce GTX Titan rises to 12 watts more than a GeForce GTX 680's consumption. This is still in an expected range, since - depending on the test and measurement scenario - the card will be more or less fully used. We omitted measurements with special consumption tools like Furmark or OCCT. Especially under load, the card once again shows the development in terms of power consumption since NVIDIA's previous generation.
The SLI system, consisting of two GeForce GTX Titan, will be more power-hungry than the GeForce GTX 590, consuming around 530 watts, approx. 160 watts more than a single card. The third GeForce GTX Titan causes consumption to increase by 200 watts. 727 watts for a complete system, this won't certainly come cheap. However, those who can afford almost 3000 euros for three graphics cards probably won't care about the electricity bill.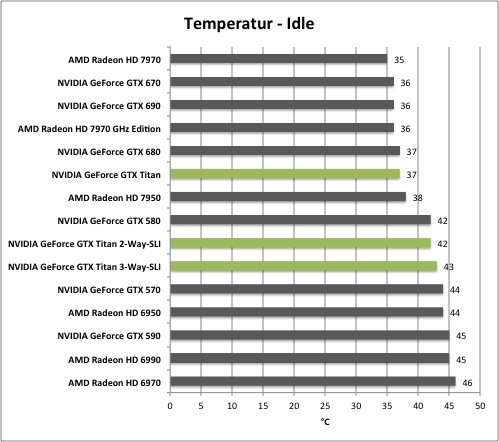 By using high quality components, NVIDIA promises a particularly efficient cooling. An idling system isn't necessarily a measure of the efficiency of a cooling system, but it still shows you a rough trend. The resulting 37°C lets the GeForce GTX Titan operate in a sufficiently cool temperature range.
Since in SLI and 3-Way SLI setups the the cards will be positioned very tightly over each other, they will heat up a little already when idling. But in any case, 42 and 43°C are quite low temperatures for graphics cards.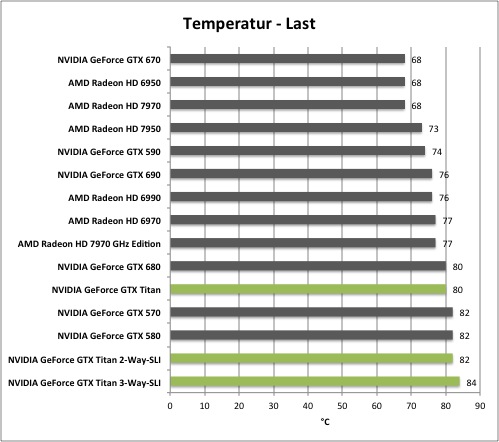 Under load, the GeForce GTX Titan will get warmer than we expected. It faced some difficulties to maintain the target temperature of 80°C. For the SLI and 3-Way-SLI setup, we even had to raise it a bit, in order to avoid reduction of voltage and clock speed. If you think that 82 or 84°C may represent a problem for a card can still reset the target temperature back to 80°C. NVIDIA considers this temperature level a safe one, a shutdown will only be carried out when over 105°C.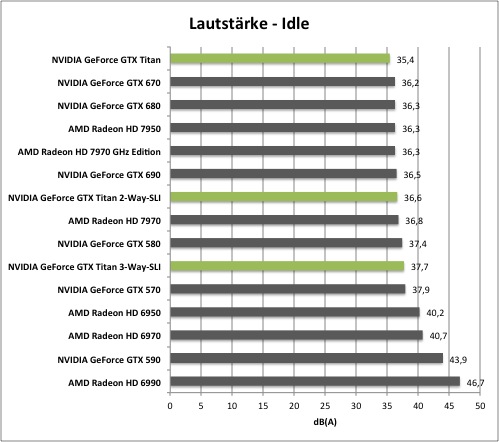 Besides the performance, certainly the most interesting aspect for most users will be the noise level. NVIDIA apparently kept their promise, since the GeForce GTX Titan achieves merely a noise level of 35.4 dB (A) when idling. This is the lowest value compared to all the competitors. Even the SLI and 3-Way SLI setups are able to reach partially much quieter levels than many a single-GPU card.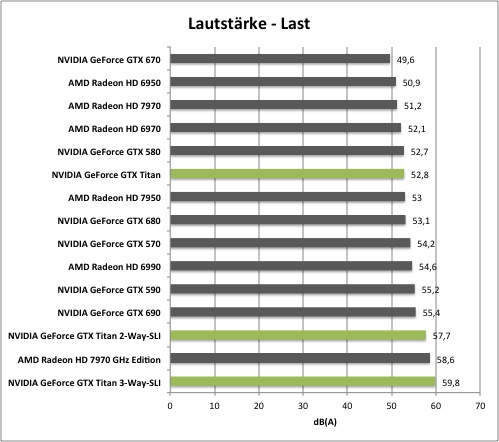 It gets even more intriguing under load. The GeForce GTX Titan doesn't loose its calm, performing her services at only 52.8 dB (A), on the level of a GeForce GTX 680 or a Radeon HD 7950. The SLI and 3-Way SLI configuration framing the Radeon HD 7970 Edition GHz is well beaten, which doesn't exactly speak for AMD's fastest single GPU card.