Reviewed: KFA2 GeForce GTX 970 Black EXOC Sniper
Page 1: Reviewed: KFA2 GeForce GTX 970 Black EXOC Sniper

KFA2 isn't the most common graphics card brand around. While part of the Galaxy name, the brand sees limited release globally to a number of countries that mainly focus around the European region. So with that said, let's look at one of the GTX 970 models out of the company, the GTX 970 Black EXOC Sniper.
18 months after the launch of the GTX 970 you have to wonder if there's anything interesting to look at still. With strong sales of the model still and the price being better than ever, the GTX 970 continues to be one of the better high-end purchases at the moment despite the scandal that revolved around its memory.
Of course, there's also the fact that companies continue to release new variations of the popular model. During CES we saw a number of companies show off new models for two reasons. One, the model continues to sell and is extremely popular among gamers. The second reasons is that companies are taking the chance to test upcoming cooling solutions that are expected to show up on the Pascal generation of cards.
So with that all said and done, let's take a closer look at what KFA2 offer with their EXOC Sniper variant against the reference NVIDIA model.
The KFA2 GeForce GTX 970 Black EXOC Sniper compared
model
KFA2 GeForce GTX 970 Black EXOC Sniper
NVIDIA GeForce GTX 970
price
starting from 330 euros
starting from 310 euros
Homepage
www.kfa2.com
www.nvidia.com
Technical specifications
GPU
GM204 (Maxwell)
GM204 (Maxwell)
Manufacturing Process
28 nm
28 nm
transistors
5.2 billion
5.2 billion
GPU Clock Speed u200bu200b(Base Clock)
1,178 MHz
1,050 MHz
GPU clock (Boost Clock)
1,329 MHz
1,178 MHz
Memory Clock
1,750 MHz
1,750 MHz
memory type
GDDR5
GDDR5
memory size
4 GB
4 GB
Memory interface
224 + 32 bit
224 + 32 bit
Memory Bandwidth
224 GB / s
224 GB / s
DirectX version
12
12
Shader units
1,664
1,664
texture units
104
104
ROPs
56
56
Typical Board Power
145 Watt
145 Watt
SLI / Crossfire
SLI
SLI
The KFA2 GeForce GTX 970 Black EXOC Sniper differs from the reference version in two ways. The first is the cooling solution and the second is clock speeds. While NVIDIA provides a reference clock speed of 1,050 MHz, KFA2 has boosted this too 1,178 MHz. This results in an increased boost clock from 1,178 MHz to 1,329 MHz. This translates to an increase of 12%, whether we see this in our benchmarks today, we'll find out later on.
While KFA2 have chosen to increase the core clock, they've left the memory running at the default 1,750 MHz. The 224 + 32-bit wide memory interface offers bandwidth of 224 GB/s. Outside of that, the core architecture details remain unchanged as we see 1,644 Shader units, 104 texture units and 56 ROPs.
Comparison of temperature and clock
game
temperature
clock
The Witcher 3: Wild Hunt
59°C
1,405 MHz
Battlefield: Hardline
59°C
1,405 MHz
Grand Theft Auto IV
58°C
1,405 MHz
Far Cry 4
59°C
1,405 MHz
Total War: Attila
59°C
1,405 MHz
Metro: Last Light Redux
58°C
1,405 MHz
Tomb Raider
59°C
1,405 MHz
DiRT Rally
59°C
1,405 MHz
Middle-earth: Shadow of Mordor
59°C
1,405 MHz
The dependencies of the boost clock speeds work in sync with the GPU temperature. While the 1,329 MHz rated clock is just a minimum, we can see across the board that our KFA2 GTX 970 Black Sniper EXOC managed 1,405 MHz in all our benchmarks. As for the temperature, that bounced between 58 and 59c depending on the game. We'll see how this compares to other models a little later on.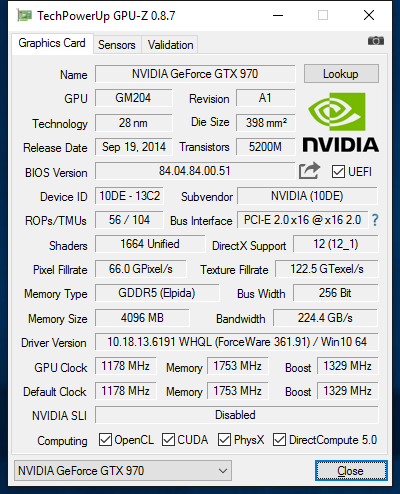 The GPU-Z screenshot confirms the details we've just mentioned.